Let's Start Your Online Self!
A
s a business owner and entrepreneur, marketing your services is critical. That's why thousands of Small businesses are establishing an online presence every day!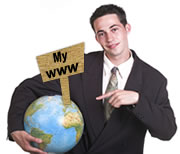 Our hosting is designed for the every-day-joe to the self-starter to the business owner. whether you're a freelancer or own a traditional brick-and-mortar store, we provide you with essential online tools to quickly get started.
Our Other Services